Open Access Week 2018: the Leiden Repository
In the 2018 Open access week, I would like to draw some special attention the the Leiden Repository.
The Leiden Repository provides you with an easy means to make publications Open Access, and the increase in the number of uploads that we have seen over the past years indicates that Leiden researchers are more and more willing to use to the Repository.
Considering the governments ambitions that all peer-reviewed publications written by Dutch researchers should be available in open access by 2020, the Repository's importance is increasing as tool to reach those goals. Additionally, researchers whose funders require Open Access publishing may meet these requirements by uploading their publications, sometimes as publishers' versions, sometimes as author versions. If you are not sure as to which version you may use, you can check your publsher's policy or embargo period at the Sherpa Romeo website or you can ask for help at openaccess@library.leidenuniv.nl
In the graphs that we show below you can see that last year more than half of all Leiden articles was deposited in the Repository. When we look at all publication types (including monographs and edited volumes) more a third has an upload. The numbers for 2018 are promising, but not yet complete. However, we are confident to see a continuation of the increase in uploads of the past years. All researchers of Leiden University are invited to add up to these numbers!
Percentage of all Leiden articles with an upload to the Repository: 2018 has not yet been finalized.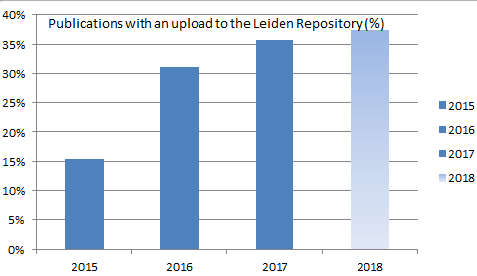 Percentage of all Leiden publications with an upload to the Repository: 2018 has not yet been finalized.